VPN-over-DNS for XP, Vista, Seven & Windows 8
Value Pack for laptops
The VPN-over-DNS Value Pack adds to our leading VPN-over-DNS Android client application a pack of two VPN clients for Windows and Mac OS X. It allows to connect your favorite laptop to our VPN tunnel farm and thus benefit from our cloud services.

The Value Pack is free for our Android users.

Here is a screenshot of the VPN-over-DNS client application for Windows, available in the Value Pack: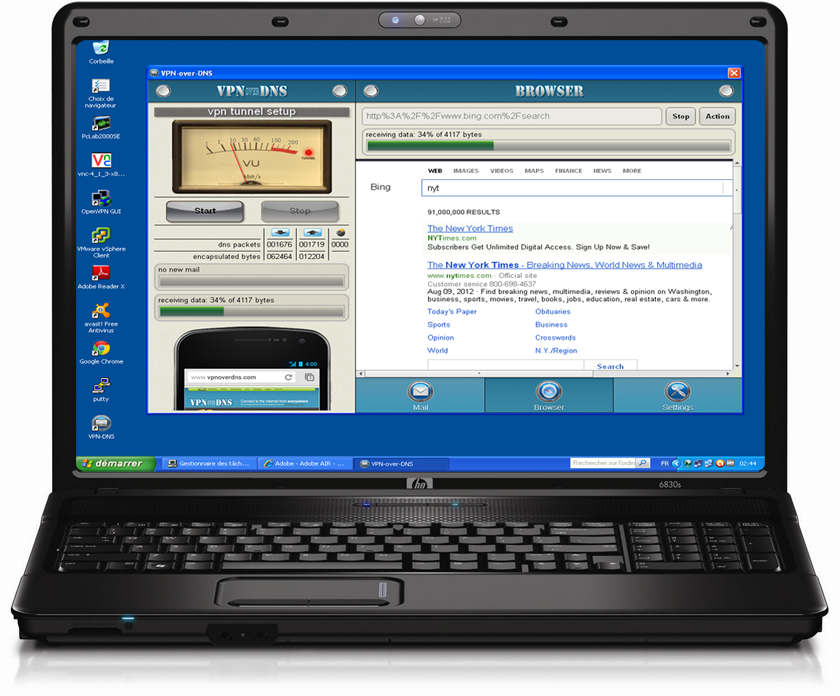 Getting the Value Pack
To get the value pack for free, our Android users can go here.
Latest News
On 19th July 2015
third release published on the marketplace Click here to download it from Google Play! This new release is based on the open-source framework Apache Flex 4.14.1
now available for free We decided today to make the Android version of VPN-over-DNS available for free on Google Play. This means that only minimal support will be given to new users. Please, read the FAQ before asking for help.
Technology informations
Relative technologies and software
Member Login